Agribusiness Perspectives Papers 1997/98
Paper 6/1
ISSN 1442-6951
---
Putting The Family Back Into The Family Farm
Paper 1 - of a series of 6 papers
Geoff Tually
Senior Lecturer
Institute of Land and Food Resources,
The University of Melbourne
1997
A series of six (6) papers that outlines and discusses the farm family and their business, with the objective of providing ideas on widening opportunities for farm family members.
The ideas presented in this series have been discussed and explored during workshops/seminars on modern estate planning, with a range of farm family members. The family farm business will continue to be the mainstream of the agricultural produce sector of the Australian economy. However, there will be a changing focus, whereby the farm family will receive far more attention than it presently enjoys.
[Paper: 1 | 2 | 3 | 4 | 5 | 6 ]
---
This paper looks at the following three (3) aspects:
Relationship of the family farm to the farm family;
Clarifying farm family goals;
Determining farm family cash needs.
1. The relationship of the family farm to the farm family
The farm and farm family are often seen 'as one'. There is a need to see them separately and to plan for each separately. This separation is necessary, as there are two time frames involved.
i) The annual (short term) production and taxation cycle, with its associated climatic and market variability. The annual budget is designed to assist management with a strategy to achieve farm and family goals for the next year. (This annual cycle tends to be the dominant focus).

ii) The family life cycle (long term) growth in family size and age requires an ever increasing demand for cash till children are self supportive - a 15-25 year cycle (each five (5) years there is an increase in cash required to be provided by the farm family business).

These two (2) cycles need to be reconciled, so that the farm family business produces sufficient cash for family needs (off farm sources of cash may be an appropriate strategy for assisting in providing cash needed for the family).

To prevent the annual (short term) cycle driving the system, a set of plans is required to be developed.
Figure 1. Planning focus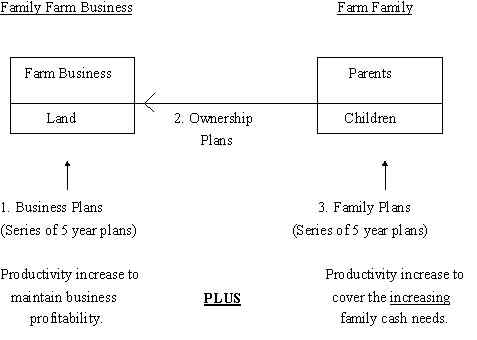 These three (3) separate plans all serve a different purpose for farm family members, but must work together to achieve family goals. Plans are essential as they assist in being aware of future needs. Ideas must be put on paper, as this is the only way to see them and be aware of any problem areas.
2. Clarifying farm family goals (family plan area)
The following broad goals are basic to most families, all are important and form the basis of any family planning.
i) Providing children better opportunities than parents experienced (i.e., many parents go without to provide desired opportunities for their children.)
ii) Keeping the family talking together.
iii) To provide for all children as equally as possible.
iv) Allowing the children to feel responsible for their own future.
v) To provide children necessary life skills.
vi) To provide for the family business to be carried on.
vii) To provide for children to be involved in the family business (in a range of capacities.)
viii) To provide for an enjoyable retirement.
Each family will have their own set of specific goals they wish to achieve, but a broad set of goals needs to be set out to view potential conflict of goals, ie., passing the farm onto one child, treating all children equally as possible and keeping the family talking together. By committing your goals to paper helps clarify potential conflict between your goals.
Setting out how you plan to achieve your goals is the next step and forms part of your family plan.
Write down your family goals for the next five (5) years (and relate them to the eight (8) broad goals above) and how you plan to achieve them, then resolve any conflict between any goals.
3. Determining farm family cash needs (family plan area.)
Cash needs change over an individuals / family's life time and depends on their desired standard of living. There are generally three (3) main cash needs sectors in an individuals life time,
i) Unmarried / married / young children;
ii) Family with teenage / tertiary children;
iii) Children independent.
Need to determine family cash needs for each of these sectors and relate to your business and ownership plans.
The cash produced by the farm family business varies from year to year, but the cash needs of the family grows from year to year up to the teenage plateau.
The farm family accommodates to the year to year cash availability, i.e., a buffer zone develops, figure 2.
However, the farm family cannot accommodate to a lack of GROWTH in cash available to cater for the change in cash needed when moving through from sector i) (young children) to sector ii) (teenage children). The changing cash needs over an individuals life time are shown in figure 2, plus associated basic cash needs amounts, according to the different life cycle sectors.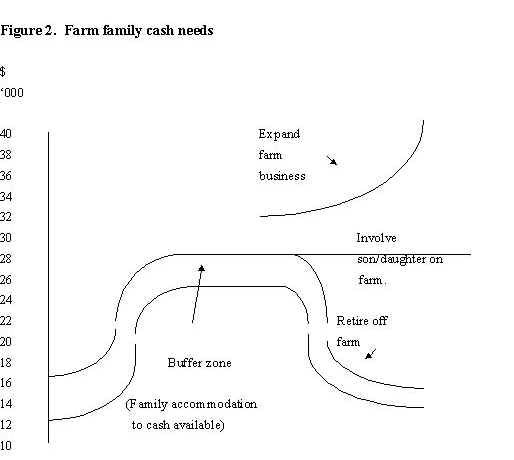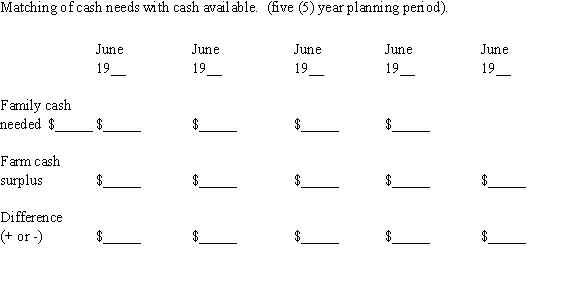 A five (5) year Business Plan for the family farm business needs to be developed for matching with family cash needs for the same five (5) year period. The next five (5) year period needs to be thought through in general terms.
Note: A Business Plan is a basic requirement of any business. Most individuals have general ideas of what they would like to do, and if the ideas are not put on paper and developed they will be overcome by day to day farm activity.
Develop your own family cash needs position - this will depend on the present number and age of children and will vary if there are more children later, and the opportunities you wish to give your children. Draw in your cash needs for your family position (from your present age). How do they relate to figure 2 profile?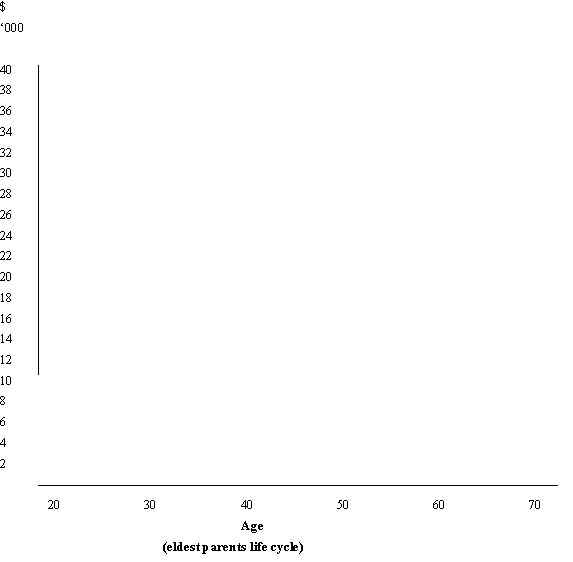 Each family will develop their own cash needs profile (There may be more than one family dependant on the cash produced by the family business, each will generally have a different cash needs position). Business, Ownership and Family Plans are developed in paper 6. The focus of planning is to achieve the broad goals and how they will specifically be achieved.